State Hate
How Iran's Press TV Uses Social Media to Promote Anti-Jewish Hatred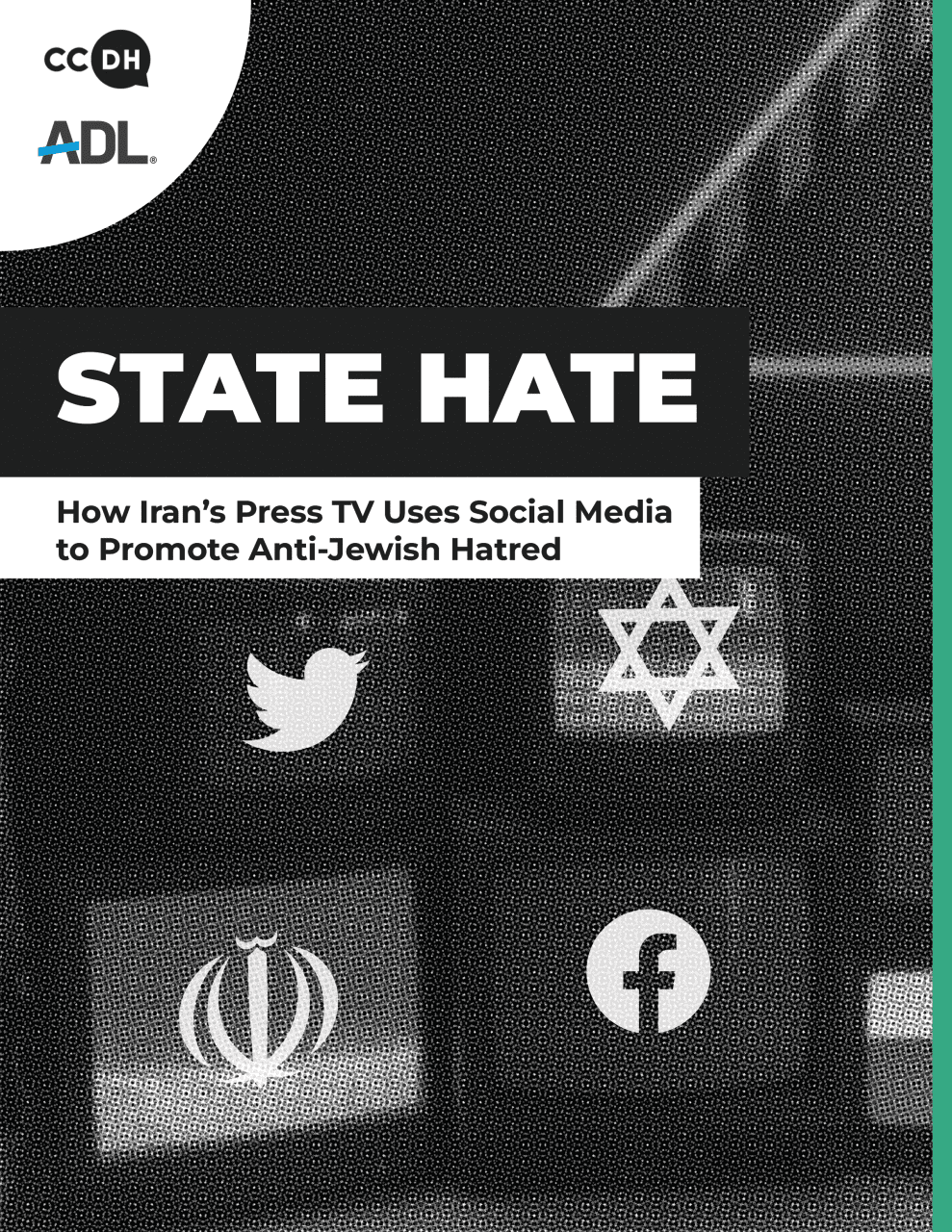 Press TV, an Iranian state-controlled broadcasting channel, uses social media to spread antisemitic hate. A new report by CCDH and the Anti-Defamation League shows how Press TV weaponizes social media platforms to promote Palestine Declassified, a propaganda tool that spreads antisemitic conspiracy theories.
About
An intro from CCDH's CEO Imran Ahmed
In this report, the Center for Countering Digital Hate and ADL expose a foreign state hate operation; an influence campaign by the Iranian state that spreads dangerous antisemitism through social media platforms to millions, with impunity.
Press TV, a broadcasting brand founded by Iran's state-controlled media corporation, is a platform used to promote the Iranian state's hateful views of Jewish people, Holocaust denial, and LGBTQ+ and women's rights to the rest of the world.1 Founded in 2007, the network's self-professed aim was to break "the global media stranglehold of Western outlets".
Press TV uses social media to promote 'Palestine Declassified', a video series which focuses its hatred towards British Jews, but spreads hateful narratives and lies about Jewish people as a whole. We argue this constitutes a 'foreign state hate operation', that is, a foreign influence campaign by one state designed to sow division among audiences abroad, this time with an overt strategy that uses the enormous audiences and algorithmic biases towards contentious material of social media to maximize visibility.
Palestine Declassified's hosts, British 'useful idiots' who have previously faced allegations of antisemitism, perpetuate what the Anti-Defamation League has called the antisemitic myths of "power" and "anti-Zionism" to their followers. The project's episodes, promoted through social media channels operated by Press TV, target Jewish people with antisemitic tropes and attack charities, schools, journalists, academics, and individuals by promoting the conspiracy that they are part of a coordinated "Zionist movement" – one of a number of phrases used indiscriminately with the aim to homogenize and flatten an otherwise ideologically nuanced and diverse set of people, groups, and communities.
Half of the programme's episodes promote antisemitic narratives – purporting antisemitic myths that "Zionists" control world events, "groom" young people in schools and universities, and the well-worn conspiracy that "Zionists" exercise a network of control in the world, specifically in the UK. Its comment section is rife with antisemitism, ranging from abuse to inciting violence against Jews.6
Banned by regulators from television networks, its .com domain seized by US authorities, and removed from YouTube, Press TV relies on the indifference of social media executives to the spread of hate on their platforms, to funnel traffic to its website. This research clearly demonstrates that social media platforms are providing the Iranian state with the infrastructure to spread its propaganda to millions globally.
While platforms claim to have rules against antisemitism, time and time again Big Tech have proven that they will only enforce their rules when convenient. In 2021, CCDH found that major social media platforms failed to remove 84% of antisemitic content reported using platforms' own tools – ranging from Holocaust denial to conspiracies fueled by anti-Jewish hatred.
Thanks to social media platforms, Press TV's vitriol has gained new ground in the West: the US, the UK, Canada, France and Australia make up 51% of Press TV's total web traffic, according to data from Similarweb. Palestine Declassified has leveraged social media audiences to disseminate deadly hate to up to 11.5 million followers, the majority of which on Twitter and Facebook. Social media companies allow it – and profit from its popularity.
It is time for platforms to stop greedily tolerating the presence of organized hate on their platforms, in breach of their own community standards, and the expectations of the vast majority of users who abide by the rules and simply want to be able to enjoy connection and entertainment online.
Our recommendations
Social media platforms maintain content moderation teams with a priority directive to limit hateful rhetoric, including attacks on the global Jewish community, and enforce comprehensive plans for addressing antisemitism on their platforms.
Social media platforms should take into account any broadcasting bans or decisions of broadcast regulators when determining if social media accounts associated with relevant entities violate community standards.
Treat Press TV and its Palestine Declassified as a foreign state hate operation subject to sanctions if authorities determine any association between entities currently under multinational sanctions.
There are clear dangers linked to the rise in the visibility and prevalence of antisemitic hate globally. In 2022, the ADL reported a 36% increase in incidents of antisemitic harassment, vandalism and assault in the US, the highest on record since 1979. Dismantling antisemitism and its machinery, and reversing its normalization in digital spaces, will require policymakers, civil society, diverse communities, and tech platforms alike to take a stand against anti-Jewish hatred in all its forms.